BridgeWorks
The superior emerging biotech
commercialization model that… Gets You There Sooner

I'll

identify

critical success factors early & build the commercial bridge from Phase Ib to market readiness before the Phase III readout.
Benefits
to Emerging Bio…
Benefits
to Emerging Bio…
Benefits
to Emerging Bio…
Benefits
to Emerging Bio…
Benefits
to Emerging Bio…
Bridge Roadmap
Stage Gates: The Bridge Roadmap is stage gated to maximize financial leverage.
Money at Risk: Identify the Commercial & Medical Affairs "money at risk" till pivotal trial readout.
Capital Needs & Partnering Strategy: Cost roll-up informs capital required to reach launch and US partnering strategy.
FTE Hiring Blueprint: Identifies early FTE hires that are critical to launch success and a quarterly "blueprint" of all Commercial & Medical Affairs hires.
What's First: Identifies long timeline work streams that need to begin early (now).
Value Potential: Develops a strategic view of the agent's value potential over time by interrogating its scientific orientation, MOA, similar MOA's and unmet needs.
Proof

Is In Our Process

Our proprietary Bridge Roadmap provides a clear sight line into US commercialization including a highly detailed view of all Commercial & Medical Affairs imperatives, critical success factors and FTEs (e.g., Sales & total Commercial/Medical Affairs) from T-48 through the launch year.

The Bridge Roadmap aligns the size of the Commercial & Medical Affairs "effort" (costs & FTEs) with five-year post launch revenues in the US and stage gates the spend with company milestones.
Bridge's Commercial Roadmap for our ALX Oncology's CD47 checkpoint inhibitor helped set the stage for larger strategic considerations
Bringing Russ onboard while we were beginning our Phase 2 trials was very important in sparking longer term thinking about partnering and commercialization strategies. Russ was a catalyst. His work forced us to think about how we wanted to grow the company and lead to some important decisions.
BridgeWorks

Gets You There Smarter
Take the chaos out of the equation. I'll

prioritize

and build your key components with phase specific expertise, for on target, on time and on budget execution.
Benefits
to Emerging Bio…
Benefits
to Emerging Bio…
Benefits
to Emerging Bio…
Benefits
to Emerging Bio…
Benefits
to Emerging Bio…
Execution Leadership
Emerging Biotech Is Our Wheelhouse: With over 35 years of commercialization expertise from Genentech and over 100 companies, the emerging biotech space from Phase Ib – III is in our dna.
Accountable Leadership: Effective commercialization requires engaging a strong commercial leader who is 100% accountable and available.
Bridge Roadmap = Operating Plan: The Bridge Roadmap is aligned to specific company milestones and is stage-gated, and effectively becomes the company's operating plan.
Phase III Speed: For Phase III companies, we have intrinsic speed in identifying & prioritizing the Commercial & Medical Affairs imperatives & Critical Success Factors for launch and immediately begin executing them.
Hands on Learning: The Executive team will have the opportunity to participate in all the Commercial / Medical Affairs imperatives. This form of "hands on learning" is invaluable in understanding the underpinnings and importance of commercialization.
Exceeding

Your Expectations

Stepping into an emerging biotech company and seamlessly transitioning from R&D to Commercial is the kind of leadership you expect. That's what Bridge delivers and then some. Not just establish but safeguard commercial alignment with Executive Team and Board on strategy, critical success factors and budget, personally executing all your imperatives up to the best qualified CCO onboarding.

Thirty plus years of experience and expertise with over a hundred biotech companies brings you the kind of relational world class Commercial & Medical Affairs experts you'll need (e.g., Market Access, Pricing & Reimbursement, HEOR, Publication Planning etc.) for just-in-time engagement that collaboratively executes your commercial plan strategically, sustainably and affordably.
Move Key Medical Affairs & Commercial FTE Hires Up to Prevent Pre-Positioning by a Competitor and Retain the Assets Value to Investors
By jumpstarting the hiring of key Medical Affairs and Commercial FTEs based on Russ's recommendation, we are working to proactively position our lead molecules to reach their full potential.
BridgeWorks

Gets You There Soundly
To

execute

key commercial imperatives you'll need access to big company experts that will work for small company pricing.
We've
Got You

Covered

Benefits

to Emerging Bio…

Benefits

to Emerging Bio…

Benefits

to Emerging Bio…

Benefits

to Emerging Bio…

Benefits

to Emerging Bio…
Our Intrinsic Value
Value for Money: Compared to mid-size to large firms, Bridge has minimal overhead which allows us to provide even greater value for money offerings to our clients.
Just in Time Expert Network: Bridge has an established network of Commercial & Medical Affairs functional experts that we bring to our clients on a "just in time basis". They provide "emerging company" pricing to Bridge's clients and since they are just in time, there is no overhead cost of retaining them.
Fiduciary Responsibility: Prior to pivotal data readout, Bridge's leadership fees are 50-75% less expensive than hiring a CCO or VP of Commercial.
No CCO Termination: Bridge's iCCO model obviates the need for the company to terminate a CCO with negative pivotal data.
Benefits

Beneath

the Surface

Intrinsic value is defined as an estimate of the actual true value of a company, regardless of market value. At Bridge, we measure our "actual true value" in our ability to make our clients shine in the transition to a commercial company. Additional factors your company should consider when making a commercial leadership choice are in what may be called "hidden intrinsic value" and include: Value for money, just in time experts without overhead, fiduciary responsibility and not having to terminate a CCO are just a few.
SPEED Of Execution @ a Phase III Company
Russ entered a company as the iCCO that was five months to their PDUFA date and had not initiated any commercial/medical affairs launch readiness initiatives. Within two weeks of engagement, he defined the entire commercialization plan in exceptional detail, began executing on the longest timeline imperatives, building a team of high performing experts and the searches for the leadership positions.
The
Bridge

Report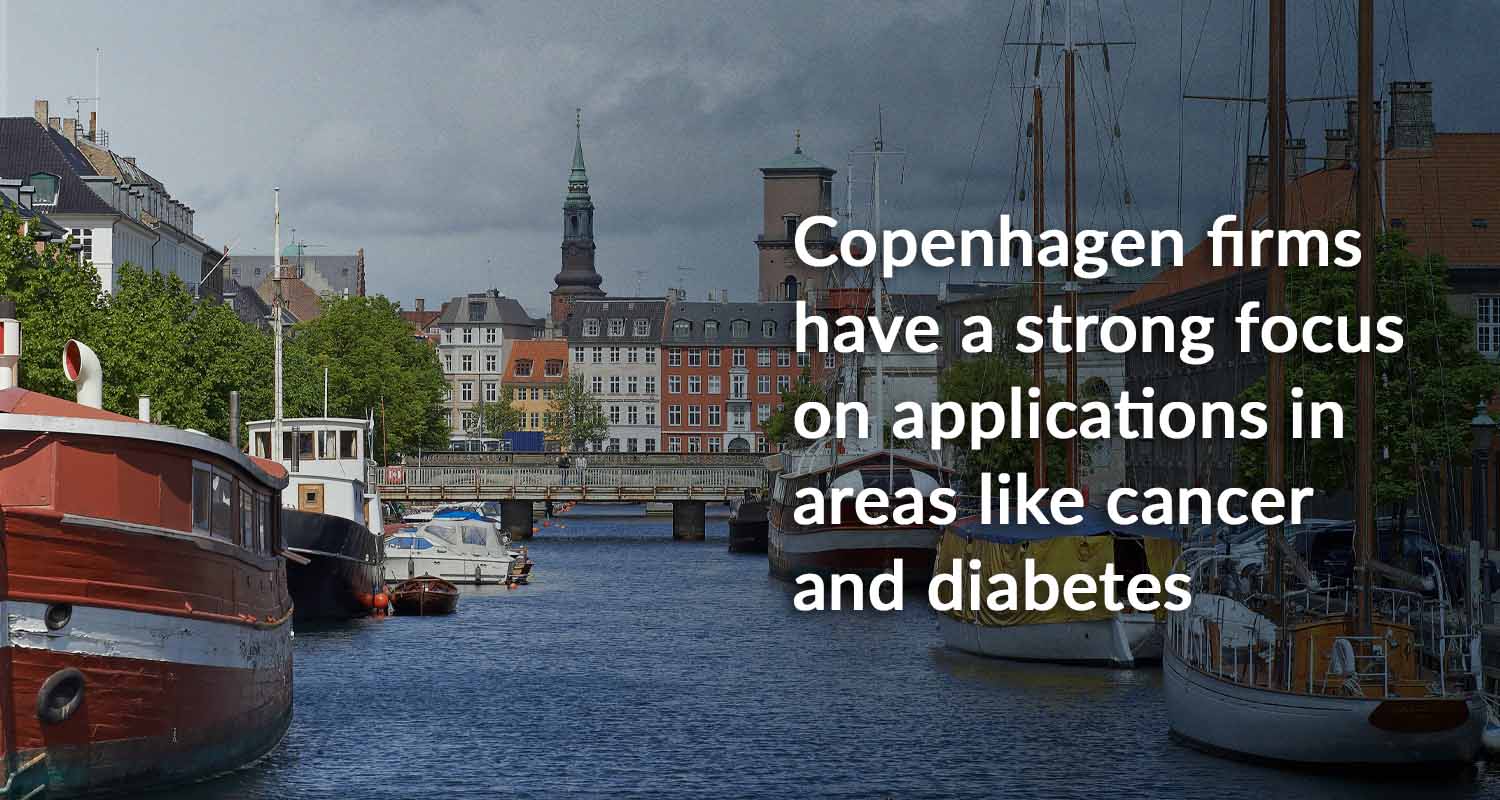 Cancer Drug Resistance has Met Its Match in Copenhagen with Scandion Oncology.
Posted on August 23, 2022 by Sheila Burns
Wonderful, wonderful Copenhagen! Companies in Copenhagen have a strong focus on medical applications in areas like cancer and diabetes, as well as a lot of activity in industrial biotech. (labiotech.eu)
With all the progress made in oncology therapeutics, cancer drug resistance remains a large unmet clinical need. Shining a spotlight on a biotech company aiming to understand the molecular and cellular processes associated with resistance.
Scandion Oncology, based on Copenhagen, Denmark, have developed a framework for understanding drug resistance. Resistance may be an intrinsic property of some cells or clones in a tumor. Over time upon treatment with a cancer drug, these cells are enriched in the tumor, such that the entire tumor becomes resistant to the treatment (this is called intrinsic resistance).
Another concept of resistance is known as acquired resistance. Here, tumor cells progress through a number of genetic events. Accumulation of defects and genetic changes will eventually make the tumor cells resistant to treatment. Over time and upon treatment, only resistant tumor cells will remain, and the entire tumor will become resistant to treatment.
Led by President and CEO Bo Rode Hansen and COO Maj Hedtjarn, Scandion has two products currently in development. CORIST, for the treatment of drug resistant metastatic colorectal cancer is a clinical Phase II study. The second program, PANTAX, for the treatment of unresectable or metastatic pancreatic cancer is a clinical Phase Ib study. In fact, this month they announced a better-than-expected tolerability of its potential new cancer treatment SCO-101 in the dose-finding PANTAX phase 1b-trial. Thus, dosing is now escalated to higher levels than expected based on the initial findings in the CORIST trial
Using their proprietary DEN50-R platform they can efficiently screen non-resistant and resistant cancer cells simultaneously, providing unprecedented insights into cancer drug resistance mechanisms in a streamlined fashion.
Looking forward to more products from Scandion Oncology to accelerate effective cancer treatments.
More News & Events